November 10, 2014 | News
2014 Hope Gala a Great Success!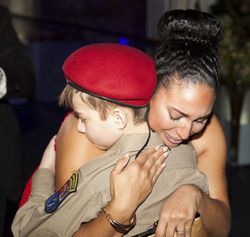 Wednesday, October 15th was a special evening for The Icla da Silva Foundation. Hundreds of friends gathered at our Hope Gala to celebrate the lives that have been saved through bone marrow transplants. The evening raised more than $315,000 and is the Foundation's largest annual fundraising event. Financial contributions are critical to the continued growth of the registry and the patient support services the Foundation provides.
The highlight of the evening was the emotional first-time meeting between 8-year old Brazilian boy, João "Bombeirinho" de Barros, and his life-saving bone marrow donor, Kayla Castillo. João's life was taken by leukemia and thanks to Kayla, for being a committed volunteer marrow donor, João was able to receive his bone marrow transplant.
João earned the nickname "Bombeirinho", the Little Firefighter, because of his dream to one day grow up and become a firefighter so he can save lives. The FDNY joined the festivities in a very special and touching tribute where they swore João in as an Honorary Firefighter.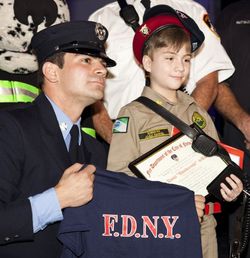 Former CNBC and Fox Business Network Anchor and Senior Correspondent, Dennis Kneale served as the Master of Ceremonies.
Currently, there are over 12 million donors in the Be The Match Marrow Registry but unfortunately many patients still cannot find a compatible match. Your financial contribution helps us recruit and add more potential donors from diverse racial/ethnic backgrounds to the registry so transplants can become a reality for all patients. Our work is not done until every patient who needs a compatible donor finds one.
How YOU can help!
Volunteer in our office or any of the marrow drives in your area.
Help us host a marrow drive.
Consider making a tax-deductive contribution. Your donation will:

Help cover the $100 cost of adding each new donor to the Be The Match Registry.
Help provide financial assistance to cover the patients out-of-pocket expenses related to their treatment.